Herzlich Willkommen bei Deinem Partner für elektrische Gitarren und Gitarrenbau in Wiesbaden!
For English description see below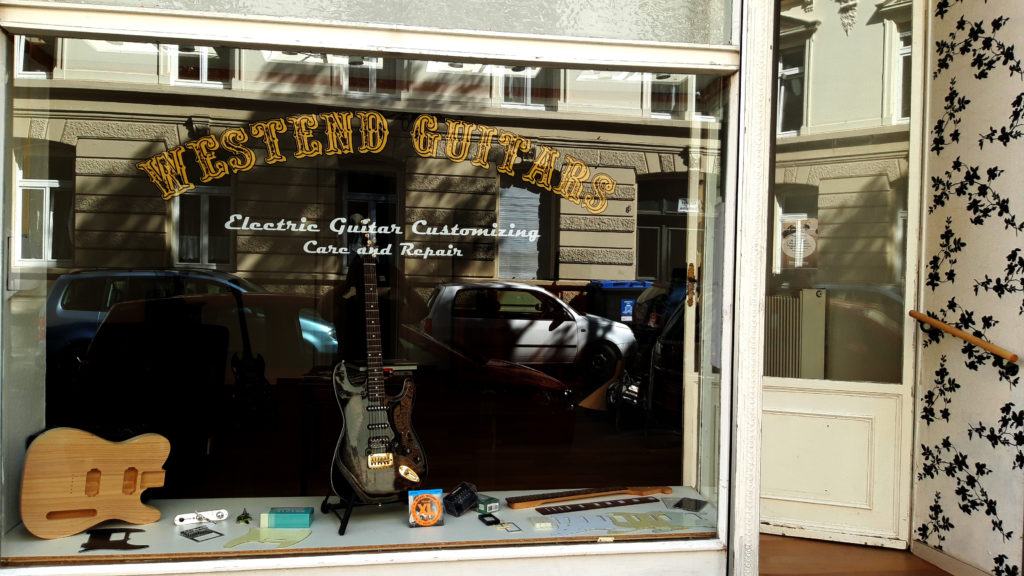 Pflege und regelmäßige Wartung erhält den Wert Deines Instruments.
Mit einem professionellen Setup spielt sich das Instrument besser, ein ordentlich gefeilter Knochensattel lohnt sich auch bei jeder günstigen Gitarre, um das Spielgefühl enorm zu steigern.
Deine Soundvorstellung hat sich geändert und Deine Strat braucht einen Humbucker am Steg, der Body hat aber eine SSS Fräsung – kein Ding!
Gerne begutachte ich Dein Instrument und berate Dich kostenlos über angebrachte oder nötige Wartungsarbeiten, um Deinen Spielspaß an Deinem Instrument zu erhalten oder sogar neu zu wecken.
Bitte hab keine Scheu mit günstigen Instrumenten zu mir zu kommen. Gerade dort kann ein professionelles Setup und ein paar kleine Änderungen wahren Wunder bewirken.
Besuche mich in meiner Werkstatt in Wiesbaden. Ich freue mich auf Dich.

Welcome to your partner for electric guitars in Wiesbaden!
Care and regular maintenance maintain the value of your instrument.
The instrument plays better with a professional setup, a properly filed bone nut is also worthwhile with any reasonable priced guitar to increase the feeling of playing enormously.
Your sound concept has changed and your Strat needs a humbucker on the bridge, but the body has SSS routing – nothing!
I would be happy to examine your instrument and advise you free of charge about any maintenance work that is necessary or necessary in order to maintain or even awaken your playing fun on your instrument.
Please don't be afraid to come to me with wallet friendly instruments. This is where a professional setup and a few small changes can work wonders.
Visit me in my workshop in Wiesbaden. I look forward to see you